The following explains how to install Zoom and - if available - link an existing account.
Select "Sign in" to configure your account (see figure).
Tap on the "SSO" button.
Sign in with your university email address (ends with @stud-unibas.ch or @unibas.ch).
The login page of the university will open. Log in here with your university login data.
Also have your two-factor authentication code ready.
Now the app is ready for use.
You can find further instructions at the official Zoom help(iOS | Android).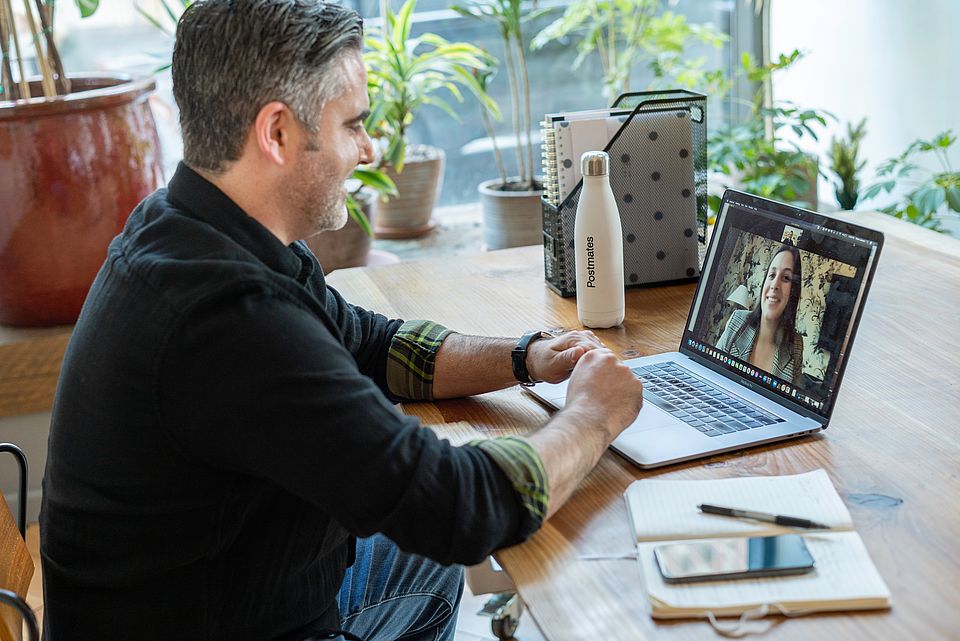 Meeting
Participants: up to max. 30 recommended
Participants are specifically invited and can be speakers at any time, participate interactively via audio and chat and share the screen / webcam.
Course & Examination
Participants: Up to max. 300 possible
Up to max. 500 must be applied for
Up to max. 1000 possible in individual cases
Interfering interactive functions (e.g. screen sharing), can be disabled for participants. See security settings.
Ideally, schedule a test of the technology.
Moderation by co-host is recommended.
Conference & lecture series
Participants: Up to max. 300 possible
Up to max. 500 must be requested
Up to max. 1000 possible in individual cases
Registration should be enabled and interactive features for participants (webcam, audio, screen sharing) disabled. See security settings.
Notes
Please read this leaflet from the University of Basel on the subject of deletion management by lecturers. It answers questions such as "Which deletions are automatic?" or "Where and when do lecturers need to become active in the area of deletion management of their teaching materials?".
In addition to normal Zoom, you can also host webinars. These are very similar to meetings, but have some features such as additional panelists that can be valuable at large, public events.
For more information, see the official Zoom help Comparison between meetings and webinars.
It is possible to convert a meeting to a webinar without changing the registration link for users in already scheduled Zooms. For more information, see the official Zoom help: Convert meetings and webinars.
It happens that you are disturbed in Zoom by mostly external participants*. Disruptions can range from unwanted sharing of webcam and microphone to sharing of content through screen sharing. The following options are available to help prevent the aforementioned and other disruptions.
Before the meeting
Waiting room: People who want to participate in Zoom must wait until they are allowed by the host.

The host can control exactly who can and cannot participate. However, this is not very practical for large numbers of participants.

Permissions: People who want to participate in a zoom must have appropriate permission.

The host can define that only registered users can participate. People outside the University of Basel cannot participate.
If multiple people should be able to share content, the corresponding permissions can be given explicitly. When creating a zoom, define in the field "Alternative moderators" who is authorized to do so.
During the meeting
Use the "Security" menu to control which options are available to participants to share content. You can control whether participants can use the following functions: Share screen, Chat, Change name, Unmute, Start video.
See also the official Zoom help Security settings.
It is possible to collect various information from attendees in advance via a registration function of Zoom. These registered attendees can then be sent information about the event manually after approval or automatically. It is thus possible to manage the attendees before the event and also cancel registrations if necessary.
The registration link can be published publicly without any problems, unlike Zoom links.
More information can be found in the official Zoom help, including Setting up registrations for meetings and Scheduling webinars with registration. Other topics related to registration can be found there using the search.
Note: Registration allows more attendees than the organizer's license limit.
Currently, no links between Zoom and third-party applications are supported. A full clarification of data protection and data security for an extensive list of requested third-party applications is not part of the "Zoom" service.
Examples of third-party applications: Slack, Panopto, IFTTT, Youtube, Google Drive, Vimeo, Splunk, Confluence, etc.
With aDisability Statement, the University of Basel is committed to equal rights for students with a disability or a chronic illness. The Zoom software should be no exception. To this end, Zoom offers numerous functions (support for screen readers, transcripts, subtitles, etc.). An overview can be found on the official Zoom website.